Manhattan, NY
Schedule Appointment
All Services
Conditions
Athletic Medicine
Our Practice
Resources
Gallery
Testimonials
Contact
Accessibility
A successful Achilles Tendonitis story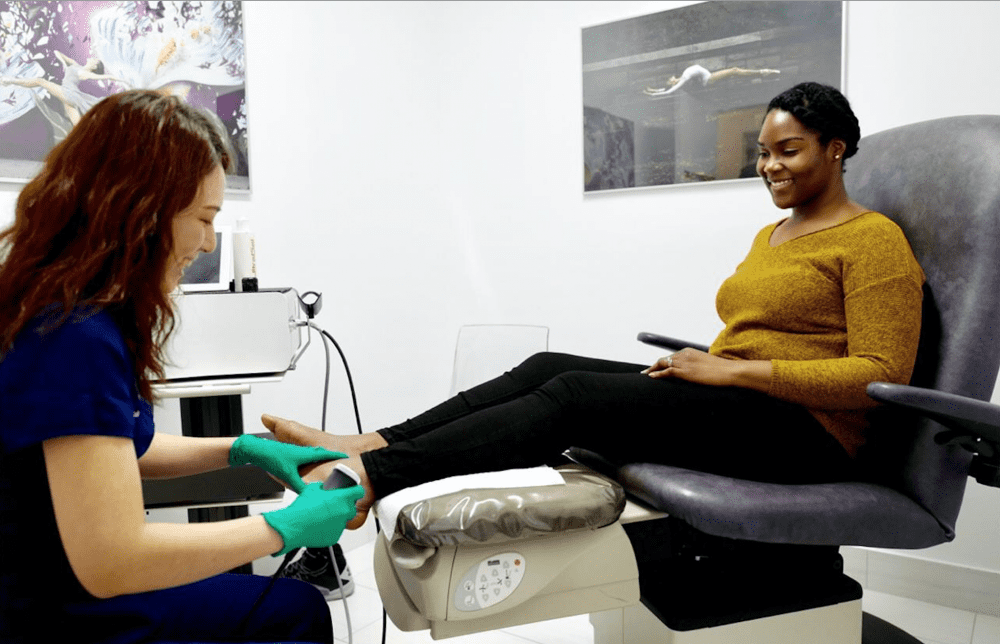 A successful Achilles Tendonitis story
Who would guess that missing one step on a stairwell could cause years of foot and leg pain? During my junior year of college, I sprained my ankle on my way back to my dorm room from my university's library. I visited the school's on-campus nurse, got it wrapped and was told that if I rested for a few days it would all get better. A few weeks later I was back to normal, or so I thought.
I was able to return to the gym. I was able to rush back and forth between classes. I had even started running along the indoor track on campus. However, I noticed that if I ran for too long, or did too much cardio I would get a sharp pain near my ankle that would last a few days at a time. As a busy college student, I didn't 't think too much of it. In my mind I had bigger concerns like final papers and exams. A little pain wasn't going to slow me down.
After college, I started a full-time position with a company I loved and took advantage of the gym located right next door to the office building. I would workout in the morning and head to my office right after. It did not take long before I started to feel the sharp pain in my ankle return. After months of experiencing the pain come and go, I decided to finally do something about it. Our office's wellness fair had come around and we were visited by a local physical therapy establishment. I went on to do 4 months of physical therapy that included stretching, massages and electrical stimulation. However, I noticed that the treatment had little effect. At this time, I decided that it was not worth the money to continue going to therapy.
A few months passed and winter had begun to spring into full affect. After a bad snow storm, the foot pain that I had grown accustomed to coming and going within a day or two, was still around a week after it had started. I didn't start to worry until the pain grew deeper in intensity. After about a week and a half, I could barely walk! I search my insurance providers for a podiatrist office close to my job and called and scheduled an appointment the same day. The reception staff were very courteous and made me feel so welcome. 
Not only was the office beautiful, but the care and attention I received were phenomenal. One of the main things I appreciated from IDEASTEP INSOLE was how they did not try to pressure me into surgery or other invasive procedures. They considered my priorities and adapted a treatment plan that was tailored to my needs. After my in-office x-ray showed no signs of broken bones, I was referred to NYU Langone to do an MRI. While I waited for my results to come back, I was immediately started on passive therapy to manage the swelling and soreness in my foot.
When the results came back, I found out that I had torn a tendon in my left foot, the same foot that I had sprained a few years back. What I thought might have been tendonitis, was actually quite worse. After consulting with my doctor, I decided to try stem cell injections to heal the tendon. A few weeks after I did another MRI and the results were day and night. I couldn't believe the tendon had healed! This was only the beginning of my journey, however. I still had symptoms of lateral foot pain and inflammation of my Achilles resulting from scar tissue that had formed as well as the fact that I had a flexible flat foot.
To address these issues orthotics as well as shock wave therapy was recommended. I jumped on the idea of orthotics and the billing specialists at IDEASTEP INSOLE were able to work it out with my insurance so that I did not have to come out of pocket for the supports. That was a huge relief to my wallet! I was more skeptical of the shock wave therapy. I had never heard of it before and was not sure about whether it would effectively mitigate the issue I was having with my foot. After vising a second doctor to get another opinion, the answer was clear. Shock wave therapy was the way to go.
After the first 4 treatments was skepticism turned into optimism as I started to immediately see the results. I was also put a treatment plan that alternated between passive therapy and the use of the Graston Technique by their in-house physical therapist. The physical therapist was extremely knowledgeable and customized a set of exercises for me to do both in and out of the office to speed up my recovery. This treatment coupled with my orthotics allowed to finally feel like myself again.
I really can't stress enough how much going to IDEASTEP INSOLE has dramatically changed the way I view doctors or the medical field in general. The team at IDEASTEP–from those at reception, to those who do the therapy, even down to those who handle billing requests–have always made me feel that they have my best interest at heart. My only regret is that I didn't find this office sooner! Thank you again for all you've done to return me to my running, jumping, leaping self again!
Sincerely,
Monique Watson