Aetrex: Healthy Feet for a Healthy Life
Wednesday, 11 November 2015 | Admin
It's hard to maintain a "get-up-and-go" attitude when we know the result will be tired and painful feet. Where's the motivation when it will end in discomfort? What's the point? Surely it is easier to put our feet up and take the strain off them?
Not according to those at Aetrex. Their products are designed to encourage healthy feet and shoes, offering comfort and support through their insoles to minimise the pain of being on your feet all day.
So no more sitting back and relaxing, it's time to get back on your feet!
Who Are Aetrex?
Aetrex were founded back in 1946 and have grown since then. In fact, they have grown so much they are now considered one of the leading manufactures in the footwear industry and globally recognised for the comfort their insoles provide. There is no room for complaints about sore feet around them!
Aetrex began by focusing on the medical side of things when it comes to the feet, specialising particularly in arch-support. It was all about promoting healthy feet and, by extension, a healthy lifestyle.
While they still focus on encouraging an active and healthy life-style, they have since branched out to use the latest technology to provide not only comfortable insoles, but fashionable ones as well.
Their products are known for the customisation and adjustability offered. Finding a comfortable insole is hard when you can't find one that suits your needs. Aetrex are determined to prevent this from being a problem.
So whether you are wearing heels or flats, sports shoes or boots, Aetrex are leaving you with no excuses to not put them on.
Lynco – The Range Everyone is Talking About
Aetrex's Lynco range has become big. Very big. So big, in fact, it is now deemed the number one product recommended by professionals in the industry when it comes to comfort. They are popular because the support offered rivals customised insoles, but the price rivals… well, over the counter insoles. It's the best of both worlds.
Lynco is a vast range full of different options. You can chose metatarsal support or opt for one more suited for correcting over-pronation. You can select a casual insole or decide to embrace the activeness and go for a sports one.
You're beginning to get the idea – Lynco has a product that will suit any need. It's hardly surprising they have reached the top of their class for comfort and support.
Millions of people can't be wrong. Aetrex are doing something right with their Lynco range due to the reputation now surrounding them. The ability to suit your foot-type, size and needs makes it easy to find the right type of insole for you.
To find out more visit Shoe Insoles and our full range of Aetrex Insoles.
---
---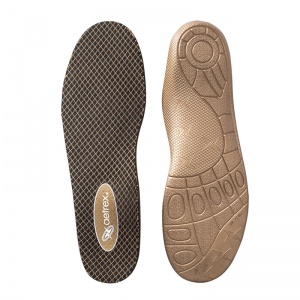 Aetrex Lynco Sports L420 Neutral Orthotics
Orthotics for use specifically with athletic or sports footwear
State-of-the-art tri-density system with Pro-Shox and AeroCells
Recommended for those with flat or low arched feet
Absorbs moisture to prevent blisters and keep feet cool
| | | |
| --- | --- | --- |
| | | In stock now |
| | | |
| --- | --- | --- |
| | Tweet | |
Please Sign In or create a New Account to leave a reply!
Ideastep Insole is an orthotics manufacturer, Offer OEM & ODM.
Your Sole Insole Shop provide Orthotics for flat feet, High arch, Plantar Fasciitis, Heel Pain…