Best Heated Insoles and Socks
Friday, 4 November 2016 | Admin
Keeping your feet warm in the cold weather is vitally important. As well as being one of life's greatest comforts, warm feet are more mobile and better protected from injury and disease. For example, Raynaud's syndrome, a disease where blood flow to your extremities is reduced, is most commonly triggered by cold weather.
The best way to protect yourself from this affliction is through the use of heated or electric insoles and socks. Heated insoles are also a great thermal tool for winter sports such as skiing, snowboarding and cold weather mountaineering, helping you to reach new heights (literally) and keep going for longer in cold conditions. Purchasing electric insoles can often quite naturally feel more complex than purchasing standard insoles, however. That's exactly why we've decided to offer this helpful guide to the Best Heated Insoles and Socks, which we hope will leave you feeling informed and at ease with this range of products.
Heated Insoles and Socks Basics
As all heated insoles and socks rely on electric heating elements, they all require a power source. Usually, this comes in the form of a battery pack which charges Your Sole Insoles or socks. These battery packs often attach to the person or directly to the product, for charging on the move; this can be particularly useful when using the product continuously over a number of days, such as during a mountaineering ascent.
Almost all battery packs use a high quality lithium-ion battery which is rechargeable at the mains. Some heated insoles and socks are supplied with a compatible battery pack, while for others the battery packs are sold separately. Where this is the case, you'll always be able to find a link to a suitable battery pack on the product page.
Best Electric Insoles
Heated insoles provide the best of both worlds. Retaining the medical benefits of orthotic insoles, such as protecting you from certain foot conditions, they are also able to keep your feet toasty warm, regardless of the weather. In no particular order, we profile some of our favourite heated insoles below.
ThermicSole Trimfit Heated Insoles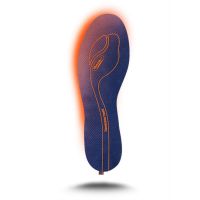 If you already have a particular pair of insoles that you wear regularly – perhaps to guard against a specific condition, then you'll probably be wary of the prospect of replacing them in their entirety. The ThermicSole Trimfit Heated Insoles provide an answer to this conundrum, essentially allow you to add a heating system to your existing insoles!
This thin, lightweight product attaches to your existing insole via a self-adhesive cover. Following an easy installation process, a high quality Cambrelle cover protects the heating element, preventing the ThermicSole from damaging your existing insoles.
Best Electric Socks
For ultimate comfort, there's just no beating heated socks. While insoles offer direct warming only to the sole area of the foot, heated socks are able to enwrap the whole of the foot and much of the lower leg, providing direct, therapeutic heat.
Therm-IC Powersock Standard Heated Socks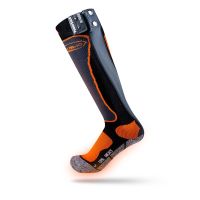 Suitable for everyday use during the winter months, the Therm-IC Powersock Standard Heated Socks are anatomically optimised to ensure they remain comfortable when in use. Due to their whole-foot warming capability, they can be great for sufferers of Raynaud's disease, or just those who appreciate toasty warm feet (who doesn't?)
Discreet and comfortable, they resemble a standard sports sock at a glance. An imperceptible heating elements runs along the outside, whilst the lightweight battery which provides power to the Therm-IC Powersock is held neatly in a compartment at the top of the sock.
Sidas Pro Heated Socks Set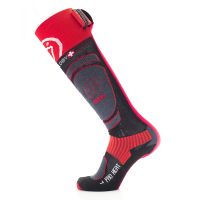 The Sidas Pro Heated Socks Set contains both the Sidas Pro Heated Socks and two high performance batteries to provide an easy all-in-one solution to cold feet. The Sidas Pro Socks are fantastic all-round, suitable for both winter sports and for medical conditions including Raynaud's, Arteriosclerosis and Peripheral Vascular Disease
The double batteries provide excellent usage time, and can be charged easily using the universal charger which is supplied with the set. The batteries attach to the sock via press studs and then tuck under elasticated straps for further security, providing peace of mind during winter sports.
Comfort in the Cold
Whether you want extra thermal support for winter sports, protection for medical conditions such as Raynaud's, or simply the unbeatable feeling of warm feet, ShoeInsoles.co.uk has a range of heated and electric products which can provide warming comfort to your feet, whatever the weather. For a wider selection, why not see our full range of Heated Insoles.
| | | |
| --- | --- | --- |
| | Tweet | |
Please Sign In or create a New Account to leave a reply!
Ideastep Insole is an orthotics manufacturer, Offer OEM & ODM.
Your Sole Insole Shop provide Orthotics for flat feet, High arch, Plantar Fasciitis, Heel Pain…