Boost Your Training with Weighted Insoles
Thursday, 20 September 2018 | Sean
It's recommended that if you are highly active or spend a lot of time standing, that you should use shoe insoles to take the pressure off your feet in order to keep you and your feet healthy. Sportspeople and fitness fanatics use insoles to prevent discomfort and improve their overall fitness. As a result, insoles have received an outstanding reputation for preventing foot pain, arch pain or other foot related problems. But what if insoles could do more than that, and actually become a source of exercise?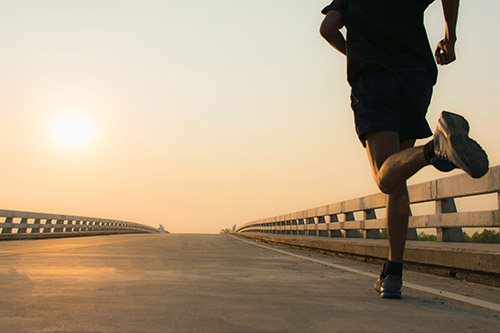 Weighted Insoles can be used anywhere; from working to walk to jogging in the evening
Weightsoles Weighted Insoles slide in the shoe like any other insoles, but instead of being used to treat plantar fasciitis or metatarsalgia, they use their 8 ounce (227g) design to provide light exercise whenever they are put to use. This article will go on to explain the benefits of Weightsoles and who they are for, while explaining just how to Boost Your Training with Weighted Insoles.
Add Weight to Lose Weight
The Weightsoles Weighted Insoles work by sliding in the shoe, and providing 227 grams of extra weight for the foot to carry. By doing this they force the wearer to work harder to get from A to B, which helps to increase the amount of calories burned by the body. In fact, studies have proven that the Weighted Insoles can boost your fitness by:
Increasing calorie burn by 11.6%
Increasing oxygen uptake by 20.6%
Increasing carb burn by 23.3%
Fitness Equipment for Everyday Life
Weighted Insoles are fitness equipment that isn't limited to the gym. They are subtle, and can be used in everyday life whether it be a light jog in the evening or when walking to work in the morning.
Suitable for seasoned athletes and suitable for people who want to lose a few calories every day without doing anything extra besides their daily routine, these insoles are beneficial to anyone who wants to lose a few carbs or boost their running performance. They can be used with sports shoes and casual shoes, and provide support to prevent foot pain over extended use. They are recommended for people who want to increase their fitness in the following scenarios:
At the gym
While out jogging
Walking to work
While riding a bike
Long walks
Acclaimed Fitness Insoles
The Weighted Insoles are popular because they work well and do what they say they do. This is because the weighted insoles use a Nylex top cloth to reduce moisture and odour, while a rubber EVA base provides traction and ventilation. The middle part also absorbs shock, meaning that while proving durability and comfortable, they also help to prevent the pain that can come with exercise too.
Weightsoles Weighted Insoles can boost your training routine
Buy Weightsoles and Boost Fitness Today
You can buy the Weightsoles Weighted Insoles today from ShoeInsoles.co.uk for just £44.99, and boost your fitness immediately. By just wearing Your Sole Insoles during the day, you'll naturally begin to burn calories that you wouldn't have before. If you want something a little more athletic, then check out our Athletic Insoles category or our Running Insoles category.
Do you have a question, or something to add? Why not let us know in the comments, or find us on Twitter and Facebook! If you require assistance or have a question about the Weightsoles, don't hesitate to call us on 020 7501 1102.
Shop Related Products
| | | |
| --- | --- | --- |
| | Tweet | |
Please Sign In or create a New Account to leave a reply!
Ideastep Insole is an orthotics manufacturer, Offer OEM & ODM.
Your Sole Insole Shop provide Orthotics for flat feet, High arch, Plantar Fasciitis, Heel Pain…