Friday, 7 August 2015 | John
Hammer toes is where the joints of one or more of the lesser toes (the toes which aren't your big toe) curl. They can be painful and tend to cause corns and calluses to form on the areas of the foot which hammer toes force to rub against the inside of shoes.
They're usually caused by a muscle/tendon imbalance, and if they're left alone they can get worse; even to the point where they need surgery. However, there are some exercises you can do to help with hammer toes.
The Toe Tap
This is basically the same movement as tapping your fingers on a table, except you do it with your toes.
Stand on a flat surface with the affected foot (or feet) barefoot
Lift all your toes off the ground together
Roll them down one at a time, from the little toe inward
Repeat 10 – 12 times
Change direction and repeat again

The Toe Spread
This involves spreading the affected toes to help them regain some of their individuality.
While sitting, cross the leg of the affected foot over the other leg
Put a finger between your hammer toe and the toe next to it
Squeeze the finger with the toe
Take your finger out
Repeat 10 times
Perform this exercise at least once a day.
The Floor Grip
This exercise is mainly focused on the pads of your toes, and allows the affected joint to relax so the bone the closest to the main part of your foot can go back to a normal position.
Stand on a flat surface with the affected foot (or feet) barefoot
Stretch your toes out so they are as straight as possible
Press the pads of your toes against the floor
This exercise can also be done in correctly fitting shoes if you prefer. If you can't do the exercise in shoes, they're too tight.
The Manual Stretch
This exercise may seem a little simplistic, but it can be really effective against hammer toes.
While sitting, cross the leg of the affected foot over the other leg
Place your fingers behind the toes at the first joint
Pull them towards you and hold for several seconds
Repeat for each joint
If you feel pain, stop pulling immediately.
Another way you can help with hammer toes is by wearing a shoe insole, which can help redistribute the weight of the foot and can help correct the muscle/tendon imbalance. If you're interested in getting some shoe insoles to help with hammer toes, head on over to Shoe Insoles and check out our full range of Insoles for Hammer Toes.
---
---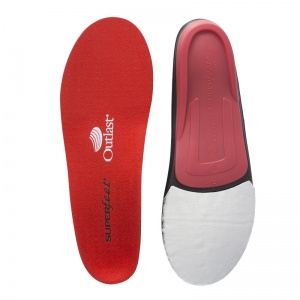 Superfeet Red Hot Insoles
Thermal insoles ideal for ski and cold weather sports
Anti-blister fabric and anti-bacterial top coat
Heel cup and contoured shape fully support your foot during high-impact activities
Wide forefoot ideal for cold weather shoes
Superfeet 60 day money back guarantee
| | | |
| --- | --- | --- |
| | | In stock now |
| | | |
| --- | --- | --- |
| | Tweet | |
Please Sign In or create a New Account to leave a reply!
Ideastep Insole is an orthotics manufacturer, Offer OEM & ODM.
Your Sole Insole Shop provide Orthotics for flat feet, High arch, Plantar Fasciitis, Heel Pain…