How to Make Your Football Boots More Comfortable
Wednesday, 14 December 2016 | Alex
Here at Shoe Insoles, one of the most common questions that we have to answer is "How can I make my sports shoes more comfortable?" If you're serious about sport, your feet are going to be put under a fair amount of stress (unless your sport is swimming, in which case you're off the hook) as repeated impact from running around can cause strain on vulnerable areas of the foot. Fortunately, there's no reason to suffer as – more often than not – the solution to your problem is simply choosing the correct pair of insoles.
With hundreds of thousands of people in the UK playing football every year, there are definitely a few people that are looking to make their boots that little bit more comfortable. To see everything we have to offer, feel free to browse our range of Football Insoles.
Why Do Insoles Make a Difference?
When you are spending extended periods of time running, your feet are subject to a lot of stress. If you are wearing football boots that have studs or blades, these can place even more strain on certain areas of your foot, which can lead to acute foot pain. With insoles like the Orthosole Cushioning Insoles, Your Sole Insole absorbs a lot of the strain that would normally be placed on your feet. By reducing the stress transferred to your feet, Orthosole Insoles alleviate pressure on the muscles, ligaments and tissues in your metatarsals, arch and heel.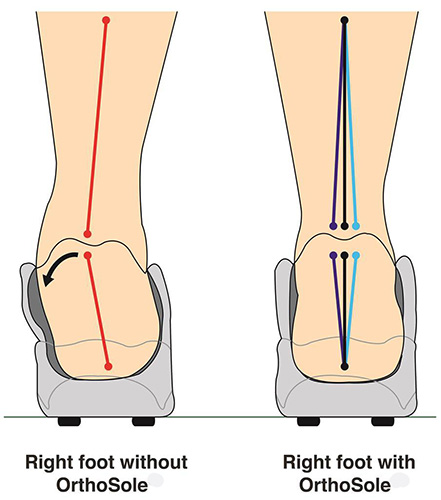 Orthosole insoles can prevent the unwanted movement of your feet
While it may be obvious that insoles can help your feet to feel better, what you might not know is how much difference the correct pair of insoles can also make to your ankles, knees, legs and back. Pronation – the outward rolling of your feet when you walk or run – is a major cause of a lot of injuries. While a small amount of pronation is healthy, over-pronation can cause bodily misalignment that places increased stress on various areas. The image above shows the huge difference that Orthosole Insoles can make to the alignment of your ankles.

Why Choose Orthosole Insoles?
While we've got a range of insoles that are all well suited for use by sportspeople, Orthosole go above and beyond the usual to provide support and comfort to your feet. Don't believe us? Well one man that certainly knows football is the England and Newcastle Legend (as well as the Premier League's top goalscorer ever) Alan Shearer, who had this to say about Orthosole Insoles: "Orthosoles should be an essential piece of every footballer and referee's kit." It's no surprise that Alan Shearer should lend his name to such a high quality product – many athletes use these insoles and they were even designed by former cricket star Ronnie Irani!
The Best Materials
One of the main advantages that Orthosole Cushioning Insoles have over their competition is the special shock-absorbing Poron XRD that is used in the construction of Your Sole Insoles. Poron XRD is designed to absorb a greater amount of shock and provide better cushioning than other materials like silicone or memory foam. In the video below, the amount of protection that is given by Poron XRD is made clear, with two fairly thin sheets providing enough protection to stop a bowling ball from shattering a pane of glass.
As well as preventing shock from affecting your foot, Orthosole Football Insoles also have another secret weapon in their materials – Agion fabric treatment. Agion is an antimicrobial finish that helps to reduce the amount of odour-causing bacteria, making Orthosole insoles a godsend for anyone that struggles with smelly boots after having played! On top of stopping bad smells, Agion also helps to prevent the build-up of mildew or mold, keeping your insoles hygienic and helping them to last longer.
Adjustable Support Tailored to Your Feet
One of the issues that are common with insoles is that they are not adaptable to provide the specific amount of support that you. Orthosole Football Insoles are supplied with three different arch supports that are of various densities (low, medium, and high), meaning that you can tailor Your Sole Insole depending on how much support you need. If you are looking for an insole that has a high level of arch support (for example if you suffer from high arches), you can use the firm, high-density insert; if you are looking for something more comfortable and shock-absorbing, the softer, low-density insert might be best.
To make your feet as comfortable as possible, you can even use different levels of support for each foot! Just as if you're wearing a pair of glasses, one eye might be different to the other, one of your feet may require different support to the other. Check out the video below for a fuller explanation about the benefits of customising your insoles.
An explanation on how to best customise and fit your insoles

Key Benefits of Orthosole Football Insoles
Alongside the benefits that were mentioned above, Orthosole Football Insoles also have the following features:
They keep the Achilles tendon in line and help to prevent tendinitis and other tendon pain
They prevent the rotation of the tibia bone, helping to stop patella tendon and chondromalacia patella
They reduce stress on the metatarsal bones
Less pressure is placed on your ankles, helping your feet as a whole
Why Not Try Orthosole Today?
Orthosole insoles have already benefited a great number of sportspeople to reach their peak level of performance – if you try them, you could be amazed at the difference that they make! With an adjustable design and unbeatable levels of comfort, Orthosole can provide custom protection and support to your feet without the cost of a custom-made orthotic!
| | | |
| --- | --- | --- |
| | Tweet | |
Please Sign In or create a New Account to leave a reply!
Ideastep Insole is an orthotics manufacturer, Offer OEM & ODM.
Your Sole Insole Shop provide Orthotics for flat feet, High arch, Plantar Fasciitis, Heel Pain…