How to Stop Shoes Rubbing on Your Little Toe
Thursday, 9 August 2018 | Sean
Blisters on your little toe hurt. It doesn't matter if you're a long-distance runner, an office worker, or spend most of your time in the house, having a blister on your little toe can impact your mobility. Sometimes your shoes just need breaking in, other times it's because your shoe isn't quite the correct size and other times it's because your little toe sticks out further than it should.
Regardless of the cause, rubbing on the little toe can cause blisters, hardened painful skin and corn toe. If you've just bought some brand new shoes and don't want to throw away yet another pair, read this article as we explain just How to Stop Shoes Rubbing on Your Little Toe.
How to Stop Shoes Rubbing on My Little Toe
There are many different ways to prevent shoes from rubbing on your little toe, which range from wearing the correct shoes to using deodorant and moisturiser. This article will demonstrate the ways that we think are most effective in solving the problem and getting you walking again!
Buy a Shoe That Fits
Perhaps the simplest way is to buy a shoe that fits. It goes without saying, but the majority of blisters are caused by wearing the incorrect sized shoes which then rubs on parts of the feet and causes damage. If toe blisters are a reoccurring problem, then don't worry, there are other options out there for you.
Wear Blister Plasters
One way to prevent the rubbing is to wear blister plasters, as these sit around the affected area and protect the skin from further damage. For example, the Compeed Foot Care Blister Plasters are ideal for a wide range of people, ranging from office workers to athletes, who suffer from intense blisters.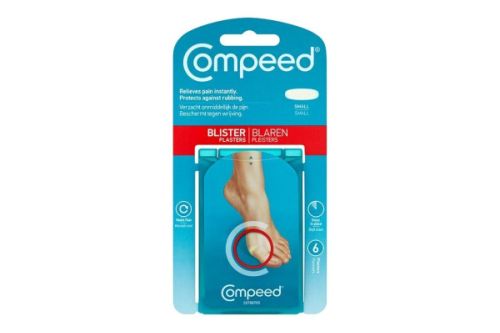 Compeed Foot Care Plasters can protect from the shoe rubbing on the toe
Available in two sizes, these versatile plasters can be placed anywhere on the foot even in the more difficult to reach areas around the toe. While these plasters are well suited to users with blisters, the Sidas Foot Protector Sheet For Blisters offer protection as soon as blisters begin to develop. They provide an effective barrier between the skin and the fabric of the shoes and socks, ensuring that the feet stay healthy during use.
Use Toe Rings
An increasingly common way to prevent blisters from developing and prevent shoe rubbing is through the use of toe rings and toe separators. They are designed to prevent toes from overlapping, which then reduces the chances of the shoe rubbing on the toe while also reducing the chances of hammer toe, bunions and corns.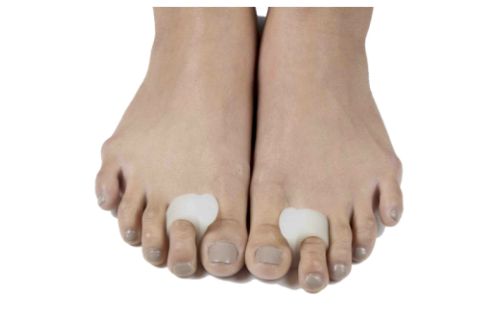 Toe separators can provide relief from shoes rubbing on toes
The Pro11 Stay-Put Toe Separators (Pack of 2) offer silicone toe separators to space out toes which can then prevent friction in sensitive areas. They are versatile and suitable for most users. Alternatively you can offer support to your toes with the Pro11 Gel Hammer Toe Support Crests (Pair) that use a soft gel to offer support to the toes and alleviate the rubbing felt on the outside of the little toe.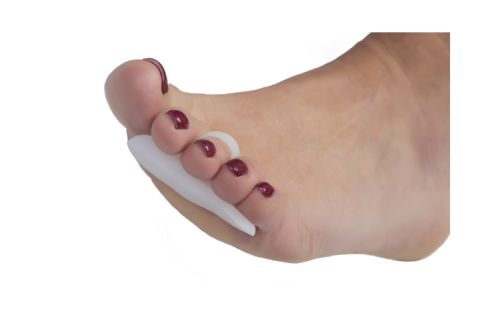 Pro11 Gel Hammer Toe Crests offer support and relief from irritation on the little toe

Freeze Bags of Water in Your Shoes
Before you go to bed on a night, fill some zip bags with water, place them in your shoes and place the shoes in the freezer. As the water freezes, it will expand and make your shoes fit comfier the following day. It's a last resort option that sometimes proves to be the trick when preventing blisters on your little toe.
Never Suffer From Toe Blisters Again
Never suffer from toe blisters again by taking the correct steps to minimise shoe rubbing. If you can't find what you are looking for here, you could always call us on 020 7501 1102, or check out our Insoles for Blisters category page, where you're bound to find the help that you need.
Do you have a question, or something to add? Why not let us know in the comments, or find us on Twitter and Facebook!
Shop Related Products
| | | |
| --- | --- | --- |
| | Tweet | |
Please Sign In or create a New Account to leave a reply!
Ideastep Insole is an orthotics manufacturer, Offer OEM & ODM.
Your Sole Insole Shop provide Orthotics for flat feet, High arch, Plantar Fasciitis, Heel Pain…