Improve the Fit and Feel of your Heels with Angel Feet Gel Insoles
Tuesday, 9 January 2018 | Admin
While wearing high heels may make us feel glamorous, there's nothing pretty about the nasty problems – such as blisters, bunions, calluses, ingrown toenails (not to mention the foot deformities) – that they often cause. The good news is that, thanks to Dasco's Angel Feet range of insoles, cushions and grips, you don't have to choose between your heels and your foot health. These revolutionary gel comfort products can be added to high heels to enhance comfort, correct body misalignment caused by teetering heels, and prevent future pains and more serious problems. Here's what the Angel Feet range has to offer:
Get all-day comfort with the Dasco Angel Feet Clear Gel Ball of Foot Cushions. These ultra-lightweight gel pads fit under the balls of of the feet to provide cushioning and reduce pressure in this area. By using these discreet gel pads, you can prevent that burning sensation that is all to familiar to just about anyone that has ever worn heels. Aside from reducing pain in the balls of the feet, these non-slip pads will also prevent your feet from slipping forward in your heels, potentially preventing muscle pain, blisters, calluses, stress fractures and more serious conditions down the line, such as osteoarthritis.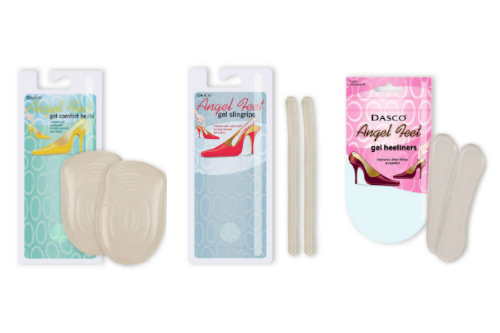 The Dasco Angel Feet Slingrips (Pack of Two Pairs) are soft gel strips that stick to the underside of high heel straps to stop them from rubbing on your feet. By applying these discreet gel strips to your heel straps you can not only prevent abrasions and sores causes by friction between straps and bare skin, but also ensure that your shoes stay in place for a secure fit and reduced risk of instability.
Wear your heels with confidence with the Dasco Angel Feet Heel Liners. Use these nifty silicone gel pads to enhance the fit of your shoes and keep your feet from slipping too far forward in your heels. By keeping your feet positioned properly in your shoes, you can improve your stability, reduce foot fatigue and prevent abrasions, blisters, corns and calluses that occur when your shoes rub on your toes.
Want to know more about the Angel Feet range? Click here to view our full range of Angel Feet gel and leather insoles and inserts.
| | | |
| --- | --- | --- |
| | Tweet | |
Please Sign In or create a New Account to leave a reply!
Ideastep Insole is an orthotics manufacturer, Offer OEM & ODM.
Your Sole Insole Shop provide Orthotics for flat feet, High arch, Plantar Fasciitis, Heel Pain…