Slimflex: Insoles for the Day-to-Day
Friday, 10 July 2015 | Admin
Slimflex are not a company to do things by halves. If it's an everyday insole you're looking for or a cost-effective alternative to custom made foot orthotics, Slimflex's range of insoles feature the best of both worlds to bring a whole new world of foot support to your feet. Whether you want to target Arch Pain, seek a Stabilizing Orthosis for Ankles or require a Flat Foot Insole, Slimflex Insoles are guaranteed to have you covered.
A Century of Slimflex
Offered by the Algeos company, Slimflex is part of family of premium foot care brands, and with a history stretching over 100 years, you can be sure that they know a thing or two about foot care. Starting from a small leather business in Liverpool in 1881 by John Algeo, the company has remained loyal to its home city throughout its history of success and expansion. In 1991 the company became serious about the orthotic services in the UK and, not content with providing foot support to only their local area, set their eyes on becoming a national supplier of specialist insoles. Able to offer a range of products, they soon became known as a one-stop-shop for every insole need, something that hasn't changed since.
The Foot Doctor Will See You Now
Slimflex may well be renamed Dr Foot Insoles, because Slimflex's range of insoles are all proudly endorsed by the National Health Service and are a leading provider of foot orthotics in the UK. Able to be adjusted by your foot care specialist or simply slipped into your usual shoe, Slimflex insoles can adapt to any foot profile or condition. Heat mouldable and able to be upgraded to give advanced personalised support and comfort, the only simple thing about even the Simplest Slimflex Insole is that it's simply the perfect fit for your foot care needs.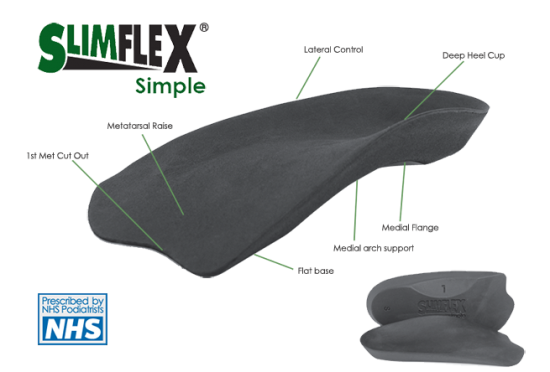 Able to offer endless options for customisation without compromise to performance, Slimflex insoles are a winning combination of professional quality and everyday affordability.
Slimflex Effects
Highly versatile and highly durable, we're sure you'll be highly impressed with any of the Slimflex insole range. Affordable, adaptable and with the endorsement of the NHS, Slimflex offer an incredible range of features that mean your feet don't have to suffer, and neither does your wallet. The change they make to even the most comfortable footwear will mean you'll want all your shoes to feel the Slimflex effect.
On The Level
The Slimflex insoles are some of our most versatile insoles, so if it's foot support or relief from heel pain or knee pain you're looking for, Slimflex can provide, and are also great foot levellers for uneven feet. Whatever your condition and wherever on your foot pain strikes, Slimflex are unrivalled in their ability to get the root of the problem so your energy levels needn't wither whenever foot pain sprouts up.
Please visit our online store to see a full range of Slimflex Insoles.

| | | |
| --- | --- | --- |
| | Tweet | |
Please Sign In or create a New Account to leave a reply!
Ideastep Insole is an orthotics manufacturer, Offer OEM & ODM.
Your Sole Insole Shop provide Orthotics for flat feet, High arch, Plantar Fasciitis, Heel Pain…