Manhattan, NY
Schedule Appointment
All Services
Conditions
Athletic Medicine
Our Practice
Resources
Gallery
Testimonials
Contact
Accessibility
Successful Plantar Fasciitis Story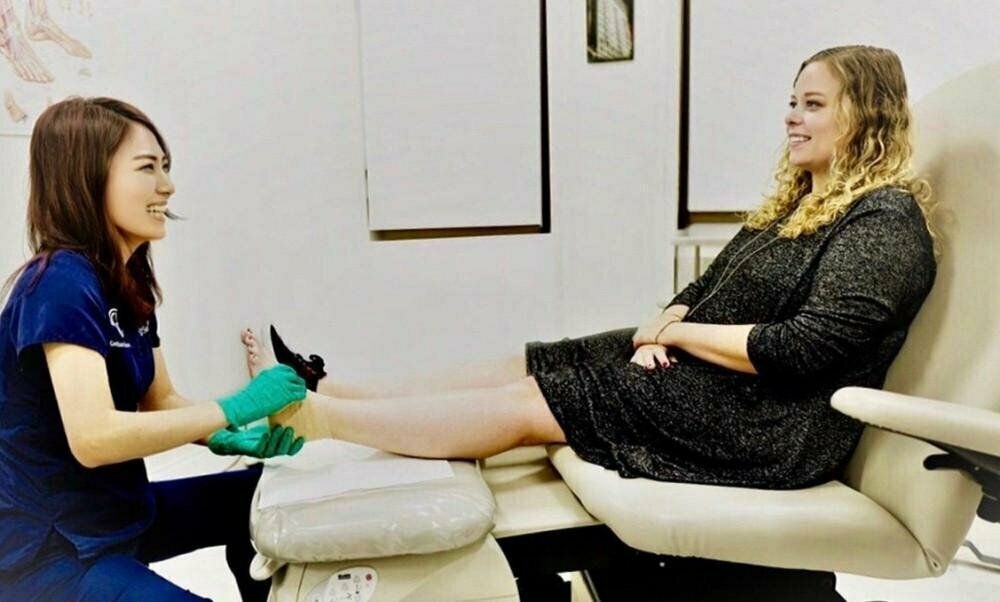 In September of 2017 I suffered a bad sprain of my ankle, and shortly thereafter I started to develop pain in the sole of my foot and arch, especially in the morning upon first getting out of bed. 

 

I originally rested the foot (and stopped doing my normal work out program) to see if that would help, however the pain only got worse. The pain was worse after sitting for extended periods, or at the end of the day. It was made worse by walking longer distances and by standing for longer periods of time. 

 

 

In January of 2018 I sought help at IDEASTEP INSOLE, who I had previously seen for a stress fracture in the same foot a year prior. After some initial X rays and a consult, they determined it was definitely Plantar Fasciitis and recommended biweekly physical therapy (ultrasound, shockwave therapy and whirlpool). I began seeing Dr Kim who also recommended a walking boot in order to ease the daily pain, as well as anti-inflammatories. I took an MRI to confirm the diagnosis, and it showed significant thickening of the plantar fascia and scar tissue. 

 

I began doing the physical therapy, along with stretching and using a night splint, for the next three months. While I did notice some mild improvement in the pain, I was still unable to walk normally without the walking boot and experiencing significant pain. Again, it was exacerbated by sitting for too long, walking or standing for longer periods of time. I was also unable to do hardly any cardio exercise. As my condition was not improving with traditional methods, Dr Kim started to explore the possibility of Tenex with me. 

 

 

 

 

Within 3 weeks of the Tenex procedure most of the inflammation had gone down and I was able to walk fairly normally. There was still pain, but I did an extensive amount of stretching (3-4X a day at least) and at least a few hours of wearing the splint. I continued to take the anti-inflammatories and began to resume some cardio exercise. The surgical site had mostly healed up by this point and only left a very small scar on the side of my foot. 

 

Within 5 weeks of the procedure I actually had an extensive trip to Asia planned (complete with lots of walking), and my pain was reduced enough that I could walk 3-10 miles a day without the pain bothering me too much. The extensive walking actually seemed to help stretch and assist in the healing process. Standing for longer periods did seem to make the pain worse, but it was still significantly better than prior to the Tenex procedure (I'd say about 60-70% improved from the worst pain that I was experiencing around January). 

 

Three and four months out from getting Tenex and I'd say I am about 90-95% recovered. I still occasionally have pain when getting out of bed in the morning, but walking around/stretching resolves it and I've only gotten some heel and arch pain after standing for longer periods (2+ hours). I am able to run again, walk for long distances and just go about my daily life with hardly any soreness or pain. On a pain scale of 1-10 and I am most often a 1 or 0, with occasionally a bit of pain more like a 2 or 3 (this really only happens if I've been bad about stretching or not working out). 

 

Stretching and exercising keeps everything loose and really helps control the pain. I find if I haven't stretched and my calf is tight it will exacerbate the pain. Continuing to do physical therapy at least once a week has been important as well, even if it starts to feel better the healing process continues beyond getting rid of the initial pain in order to make sure it doesn't come back. I still try to wear the night splint a few times a week as well to give my foot a good stretch, and of course I am always wearing insoles in my shoes and I'm almost never walking barefoot. 

 

 

All of the staff is friendly and organized, and I couldn't ask for a more supportive experience.