Top 5 Insoles for Achilles Tendinitis 2021
Tuesday, 3 November 2020 | Sean
Your Achilles tendon connects your calf muscle to the base of your heel. It performs a crucial function – transferring power from the calf to the heel and the foot, allowing you to jump, stand on your toes, run and even walk. As its role is so vital, it comes under a lot of pressure, and from time to time you'll find that it becomes inflamed.
This inflammation is what podiatrists call Achilles tendinitis or Achilles tendinopathy. Anyone who has ever suffered from Achilles tendinitis knows how debilitating it can be, but they'll also know that a podiatrists first port of call will be a pair of shoe insoles. We've created this list of Our Top 5 Shoe Insoles for Achilles Tendinitis, specially collated to meet all possible needs.
Powerstep Pinnacle Orthotic Insoles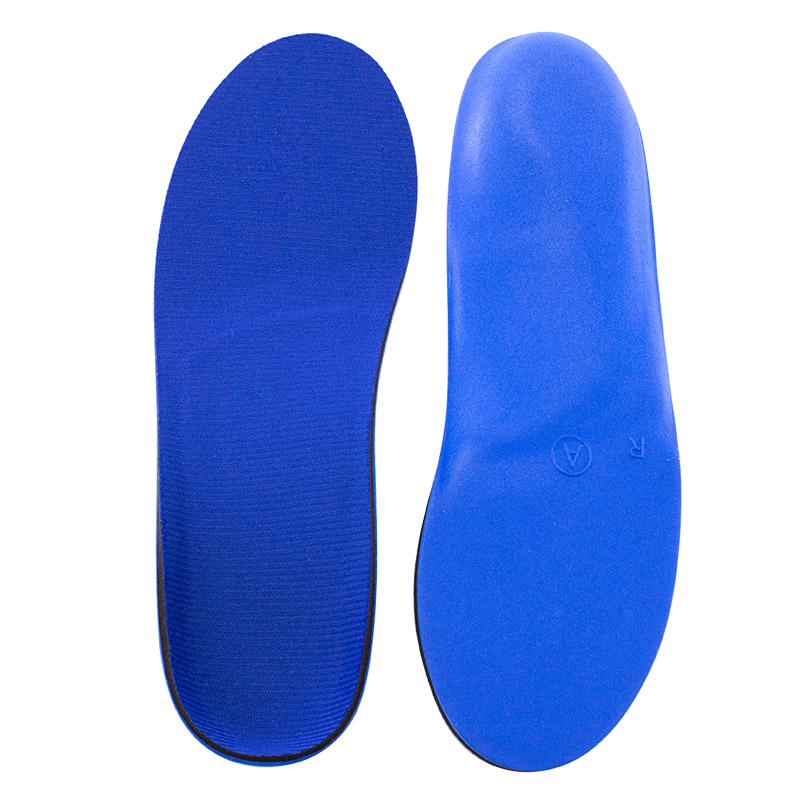 The Powerstep Pinnacle Orthotic Insoles utilise something called a Powerstep Pinnacle 4 Step System. We won't bore you with the details, but the end result is a perfect balance between foot control, spring and cushioning. These insoles allow you to walk perfectly.
In reducing uneven balance, pressure and shape, they let your Achilles tendon to do its job without any unnecessary work. These insoles will also cradle your foot, while supporting you just right in all of the weaker areas, meaning that you can continue your day in absolute comfort. They are so easy to use too, and can be trimmed to fit your foot shape to a T.
Key Points: Improve your walking posture; improve balance; trimmable.
Superfeet Green Performance Insoles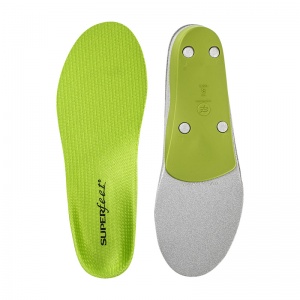 Popular world-wide, Superfeet Green Performance Insoles have been designed to provide support and control to your feet. Featuring an anatomically shaped heel cup that helps you to keep your ankles aligned, Superfeet Green can dramatically reduce the amount of strain placed on your Achilles tendon.
On top of their ability to improve your foot comfort, Superfeet Green Performance Insoles feature an anti-microbial material that helps to prevent bad odours from occurring. This makes them great for all day use – you don't have to worry about your insoles starting to smell at the end of the day!
Key Points: Reduce stress on your ankles; prevent bad odours from occurring; ideal for all-day use.
Podotech Cork Heel Lifts (9mm)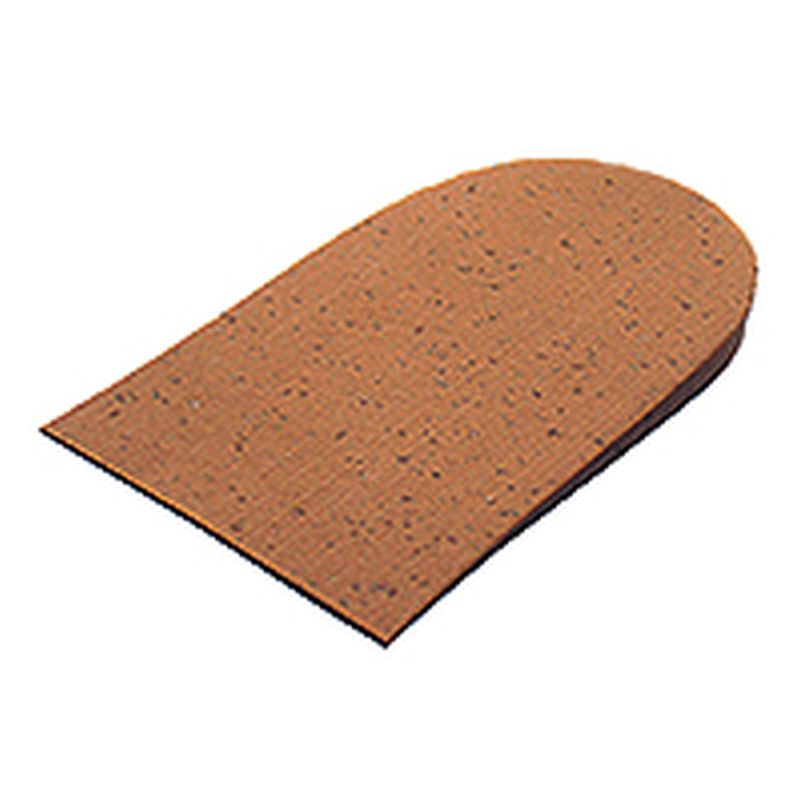 When you walk and run, your Achilles tendon will supinate and pronate by approximately 5 degrees. Hard ground and unsuitable footwear can cause your Achilles tendon to exceed 5 degrees, which means it'll become irritable and may soon start to develop tendinitis. If this happens, a pair of Podotech Cord Heel Lifts (9mm) can be used to soak up the downward pressure, and prevent the curvature in your tendon.
How this works is because the Podotech Insoles use cork. Cork can absorb pressure well without breaking; so if you place the lifts underneath your heels, your tendon will gently sink rather than be met with a hard flat surface. The idea is that this will reduce any overuse injuries from occurring.
Key Points: Prevent supination and pronation; soak downward pressure; fit underneath your heels.

Salford Insole Blue Firm Orthotic Insoles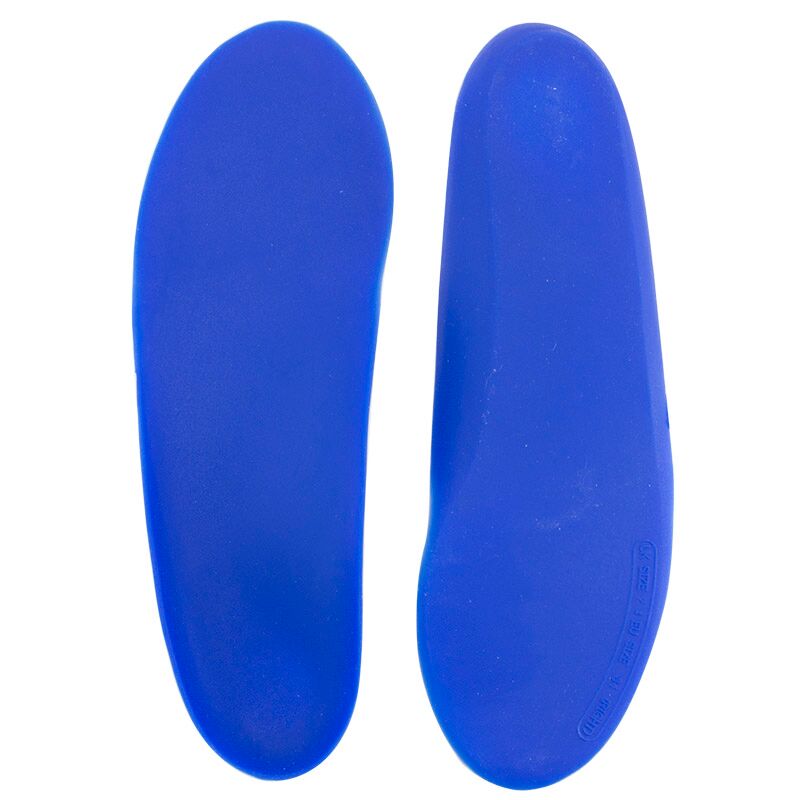 Our last pair of actual insoles in this list are the Salford Insole Blue Firm Orthotic Insoles. All of the above can be used for general use; working, running, walking, indoor use etc. We recommend you choose these if you're highly active, as something called SureStep-Control material has been integrated into their design to help reduce Achilles pressure.
What this does is bend with the movement of your heel. Whether you're putting downwards pressure on Your Sole Insole, or moving your foot upwards, Your Sole Insole will move with your heel and always cradle and absorb any intense pressure. These insoles are recommended by the NHS, so we highly suggest these insoles for active individuals.
Key Points: Suitable for highly active individuals; recommended by the NHS; use SureStep-Control to support ankle movement.
OrthoSleeve FS6 Plantar Fasciitis Foot Sleeves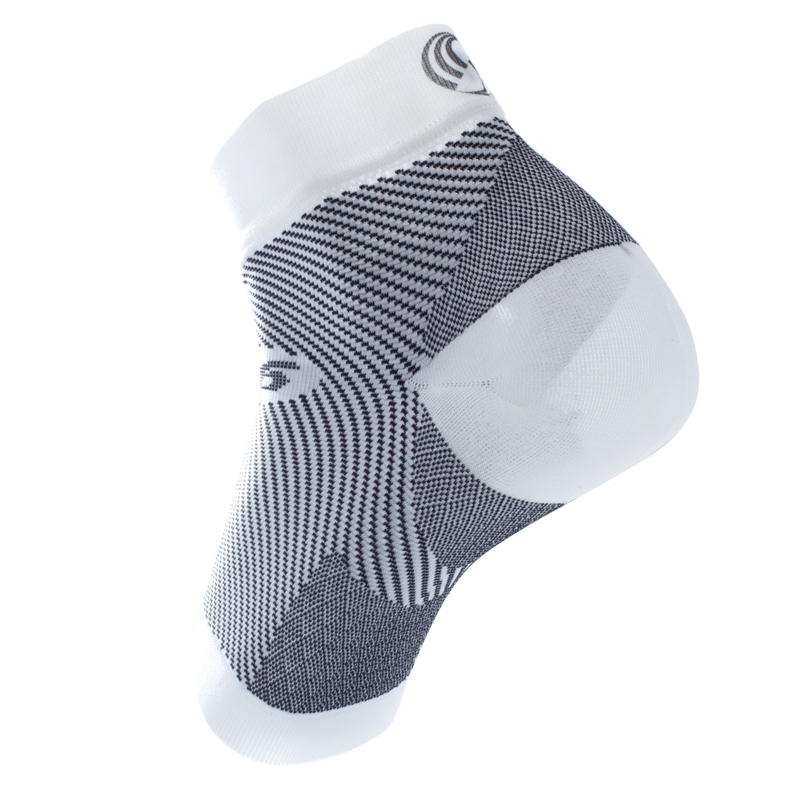 While all of the products above are great for combating Achilles tendinitis, they all have one flaw in common: they only work when you're wearing shoes. The OrthoSleeve FS6 Plantar Fasciitis Foot Sleeves allow a more holistic approach to beating tendinitis, keeping you protected while you're at home and even when you're asleep!
Providing target compression and support to key areas of your feet, this pair of Foot Sleeves have been designed to aid with a number of nasty conditions, including Achilles tendinitis and plantar fasciitis. With a lightweight and low profile design, you can wear the sleeves underneath your regular socks for a discreet day long solution!
Key Points: Can be warn without shoes; can be worn indoors; highly discreet; can be worn while in bed.
Say Goodbye to Achilles Pain for Good!
Having the right pair of orthotic insoles for your feet is not only important for recovering from tendinitis, they can also actually prevent you from developing it in the first place! If you've suffered from Achilles tendinitis before, we doubt that you'll ever want to put yourself through it again!
We have plenty of products that are suitable for beating Achilles tendinitis. If you'd like more inspiration, please visit our full range of Shoe Insoles for Achilles Tendinitis.
---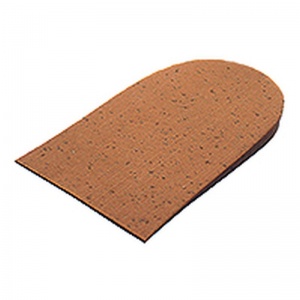 Podotech Cork Heel Lifts (9mm)
Simple and effective way of lifting the heel to provide relief from pain and a number of conditions
Economical and durable due to being made from cork
Available in a range of sizes for the best fit
Can be worn above or below Your Sole Insole to ensure the best comfort and support
| | | |
| --- | --- | --- |
| | | In stock now |
---
---
---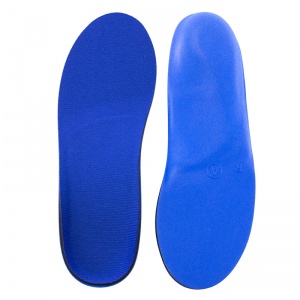 Powerstep Pinnacle Orthotic Insoles
Orthotic insoles for medical-grade foot support and stability
Suitable for sportspeople, workers, elderly and more
Reduces pain in the arches, heels, ankles, knees and lower back
Reduce effects of plantar fasciitis, arch pain, overpronation and more
| | | |
| --- | --- | --- |
| | | In stock now |
| | | |
| --- | --- | --- |
| | Tweet | |
Please Sign In or create a New Account to leave a reply!
Ideastep Insole is an orthotics manufacturer, Offer OEM & ODM.
Your Sole Insole Shop provide Orthotics for flat feet, High arch, Plantar Fasciitis, Heel Pain…