What is Ankle Instability?
1 CommentTuesday, 7 July 2015 | Admin
Ankle Instability, sometimes known as chronic ankle instability, is, as the name suggests, an instability of the ankles. Often caused by a previous ankle strain or sprain, ankle instability increases the chances of these injuries occurring again with the outside of the ankle "giving way" when walking, running or even just standing on poorly balanced feet.
Sprains + Strains= Ankle Instability
Ankle Instability is slightly unique in that it is a side-effect of another, extremely common condition – ankle sprain. Most ankle sprains occur when the foot twists as the sole is pointing inwards, also known as inversion, the full weight of the body then lands on the ligament, causing excessive stretching and even tearing of the ligaments —in some cases, even the bone can sustain damage.
Ankle Instability is the result of a sprain healing poorly. Having been overly-stretched, the ligaments are in a weakened state, if they are not put through a suitable period of rehabilitation, your ligaments may heal in a way that does not provide suitable stability for your foot. Every strain increases the risk of Ankle Instability.
Who Gets Ankle Instability?
Strains and sprains in the ankle are, unsurprisingly, often the complaint of runners and athletes who put their feet through high-impact sports. Although it is mostly active people who develop the problem, almost everyone will experience it at least once in their lives as a result of an everyday slip or fall. Any shoes that increase your chances of falling over will increase your chances of ankle sprain and probably shouldn't be in your wardrobe anyway, not least because they're going to do no favours for a recovering ankle.

Re-stabilizing Your Ankles
The correct treatment of the initial strain is the best way of making sure Ankle Instability does not also develop. Resting the foot, especially in the first few days following the injury, should be done as much as possible and an ice pack on the ankle can help reduce swelling and pain. Compressing the area will also help to reduce swelling and help you move more comfortably. Elevation of the ankle is also recommended to prevent fluid from gathering in the ankle and to keep the ankle in a supported position as it recovers.
To stop your ligaments healing poorly, you should try and get your feet back into action as soon as you feel able; the sooner the better. Light exercises and stretches of the foot can help stop ligaments getting weak or healing in a way that does not help balance your foot properly.
Ankle Instability Insoles
An insole is a great way to keep ankles supported and stabilised as you recover, allowing you to begin the process of using your foot again without overwhelming the injury. An everyday insole is also recommended to stop ankles spraining at all, or to help support ankles which are suffering from instability.
Insoles should aim to offer:
A good fit, such as a moulded insole
Cushioning to help distribute weight and pressure
Stability for the entire foot, preventing unnecessary turning such as over-pronation
A range of insoles are available at our store to help treat Ankle Instability.
Pair of insoles for plantar fasciitis pain relief
Comfortable solution for men with plantar fascia pain
Relieves heel spur pain thanks to gel in the heel
Fits most footwear types thanks to a ¾ length design
| | | |
| --- | --- | --- |
| | | In stock now |
---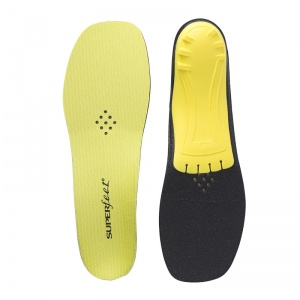 Ventilating insoles designed for athletes
Ideal for skate, hockey and cycling shoes
Patented heel cup and contoured support for optimum comfort
Superfeet 60 day money back guarantee
| | | |
| --- | --- | --- |
| | | In stock now |
| | | |
| --- | --- | --- |
| | Tweet | |
Please Sign In or create a New Account to leave a reply!
Sandra Hall
Tuesday, 19 November 2019 | 14:05
Very useful information, thank you.
Ideastep Insole is an orthotics manufacturer, Offer OEM & ODM.
Your Sole Insole Shop provide Orthotics for flat feet, High arch, Plantar Fasciitis, Heel Pain…